Microserver Gen8 introducing
8. 4. 2015
HP Microserver Gen8 is next generation of HP Proliant group called Microservers. This is practically second generation – prev. model was called Microserver G7 or just Microserver and was the first such small server from HP company.
And it seems that this is also last generation because from Gen9 generation is not microserver in HP proliant portfolio anymore.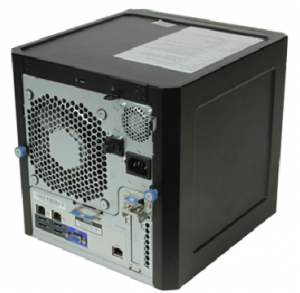 So what is worth to say about Microserver ... As it is obvious from the name - "micro-server" is very small server. Gen8 is 1 processor server with dual port network card , ILO management ILO4 and RAID controller B120i manageable by HP ACU / SSA (HP Array Configuration Utility / Smart Storage Administrator).
There are few options / models of this microserver depending on processor (G1610T / G2020T). Server is often sell with slim DVD mechanic and HDD (HDD configuration depends on re-seller –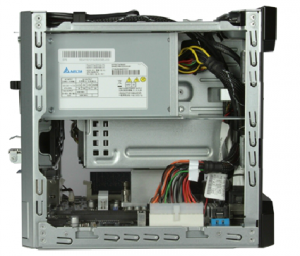 Microserver is mostly delivered with 1x 1TB HDD).
Microserver Gen8 has 4 free possition for HDDs - 3,5 size - non hotplug. There are also 5x USB 2.0 port and 2x USB 3.0 ports. Unfortunately there is just 1 power supply (no power supply redundancy option) 150 W. And just 2 memory slots for recommended ECC smart memory modules.
Supported operating systems:
Microsoft Windows 2008, Microsoft Windows 2008 R2, Microsoft Windows 2011 home server, Microsoft Windows 2012, Microsoft Windows 2012 R2
Red Hat Enterprise Linux 6, Red Hat Enterprise Linux 7, SUSE Linux Enterprise Server 11 SP2, SUSE Linux Enterprise Server 12, Ubuntu 14.04, CentOS 6.3, CentOS 7.0
VMware - vSphere 5.0, 5.6, 6.0
And finally conclusion ... In my opinion is HP Microserver good server for home and small company. I use it as NAS with OS windows 2012 R2.
+
HP ACU / HP SSA for configuring RAID and advance diagnostics of storage area.
Full ILO management 4 – great option for server monitoring and managing remotely
4x HDD position in non hotplug backplane
Dual port embeded network card
-
Controller B120i and all Smart Array controllers use HDDs running all the time. I would appreciate if there will be some setting for HDD sleep time. But this is server not NAS and this is classic server function.