Microserver BIOS
19. 4. 2015
BIOS setting is very individual and every user use his own preferred settings (RAID, booting priority, cooling ...). In this article I will try to show you some basic settings to make your microserver more personal :-)
So first of all we will have to boot into BIOS. To enter into BIOS settings we will have to wait until the initialization, server self-test will be completed.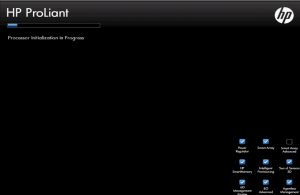 When the self-test finished we will see "F9" option to enter server setup.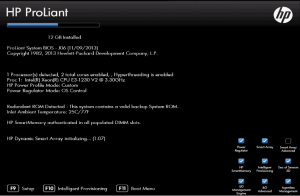 After we press F9 key on our keyboard - the option will be confirmed and server boots into BIOS.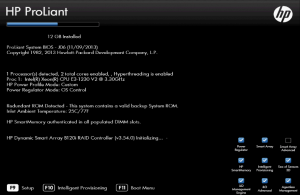 And this is how to server BIOS looks like (classic / ordinary BIOS design):
There are plenty of options to be set up but I will show you just the mains settings ...
One of the most important setting is Standard Boot Order setting. We could change boot settings priority here. This settings could by also change in ILO management.
If you want to boot some times from CD-ROM or USB flash disk and you are not using CD in CD-ROM or USB device permanently connected to your microserver you can use the same settings as I do.
If not you can change boot priority - select device you want to change using enter key and use up and down keys to change boot priority.

Second very important settings is RAID settings. If you use HP Dynamic B120i you should set up controller mode before OS installation.
This controller could be configured as:
1) SATA - all connected HDDs are visible in OS. Controller RAID cannot be configured but you can configure software raid using you OS. Or you can use it just like single HDDs - for non critical data.
2) AHCI - classic AHCI mode (AHCI driver needed)
3) RAID - and finally RAID mode - when you enable this option you will have to configure your RAID using HP Smart Storage Administrator in intelligent provisioning or HP Service Pack for proliant. Controller support RAID 0, 1, 10.
When you changing controller settings you can lost your data so be careful if you have already installed operating system.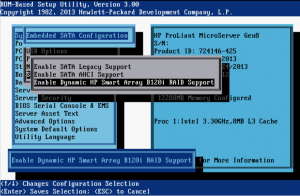 Another quite important settings you can find in Server Availability settings.
There is ASR status and ASR timeouts setting. ASR = automatic system recovery. This is watchdog functionality of HP Proliant Servers. If your operating system stops responding - for example when OS freeze during some application error - ASR will reboot your server to make your OS availlable again. Sometimes this could be very helpful.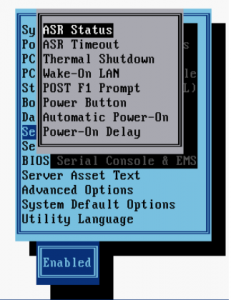 ASR timeouts is time settings - how long should watchdog wait for response from OS.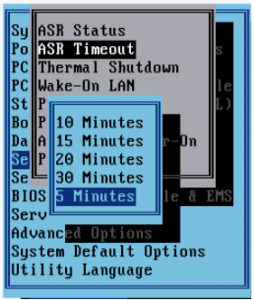 There is also thermal shutdown - this is good to prevent hardware damage due to overheating.
Wake on lan, post F1 prompt, power button settings.
Automatic Power on settings - what should server do after power outage. If there is power outage and power is now available again what should server do: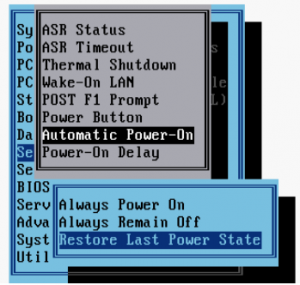 Helpful could be for you also following settings:
HP Power Profile - choose your compromise between performance and power consumption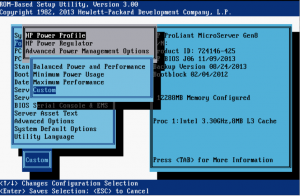 Some times after system board replacement is not serial and product number changed - you can change it in Advance option menu. This action should be done by HP support after system board change. Serial number and product number should be the same as on server label.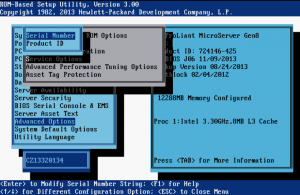 And last quite important option - if you want to restore default system settings - for example if you have some issues with BIOS settings and you forgot what you have changed you can restore BIOS settings to default using this option.
This option can be found in System Default Options menu.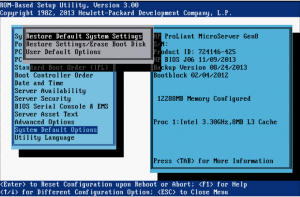 Print screen in better quality you can find in photo galery bellow. Thank you!